Al Ikhlaas Academia library will be hosting 3 eminent scholars who will share some practical views on our approach to the challenges we face during these unprecedented times. The videos will be screened on our YouTube and Facebook Channel from 13:30 Sunday 10 May 2020.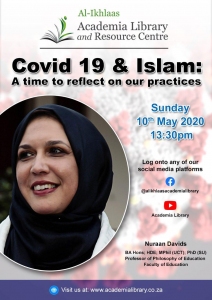 10 May 2020 – Professor Nuraan Davids from the University of Stellenbosch. Topic: COVID-19 and ISLAM – A time to reflect on our practices.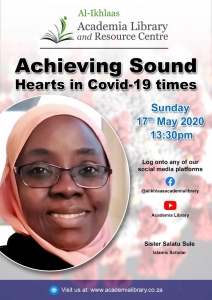 17 May 2020 – Salatu Sule – Daughter in law of the legendary Ayesha Lemu. Topic: Achieving Sound Hearts in COVID-19 Times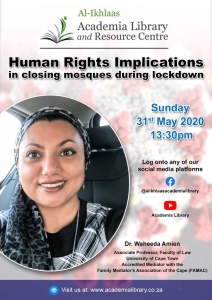 31 May 2020 – Waheeda Amien – Associate Professor Law dept UCT. Topic: Human Rights Implications in closing mosques during the lockdown.