Film Club Launched at the Academia Library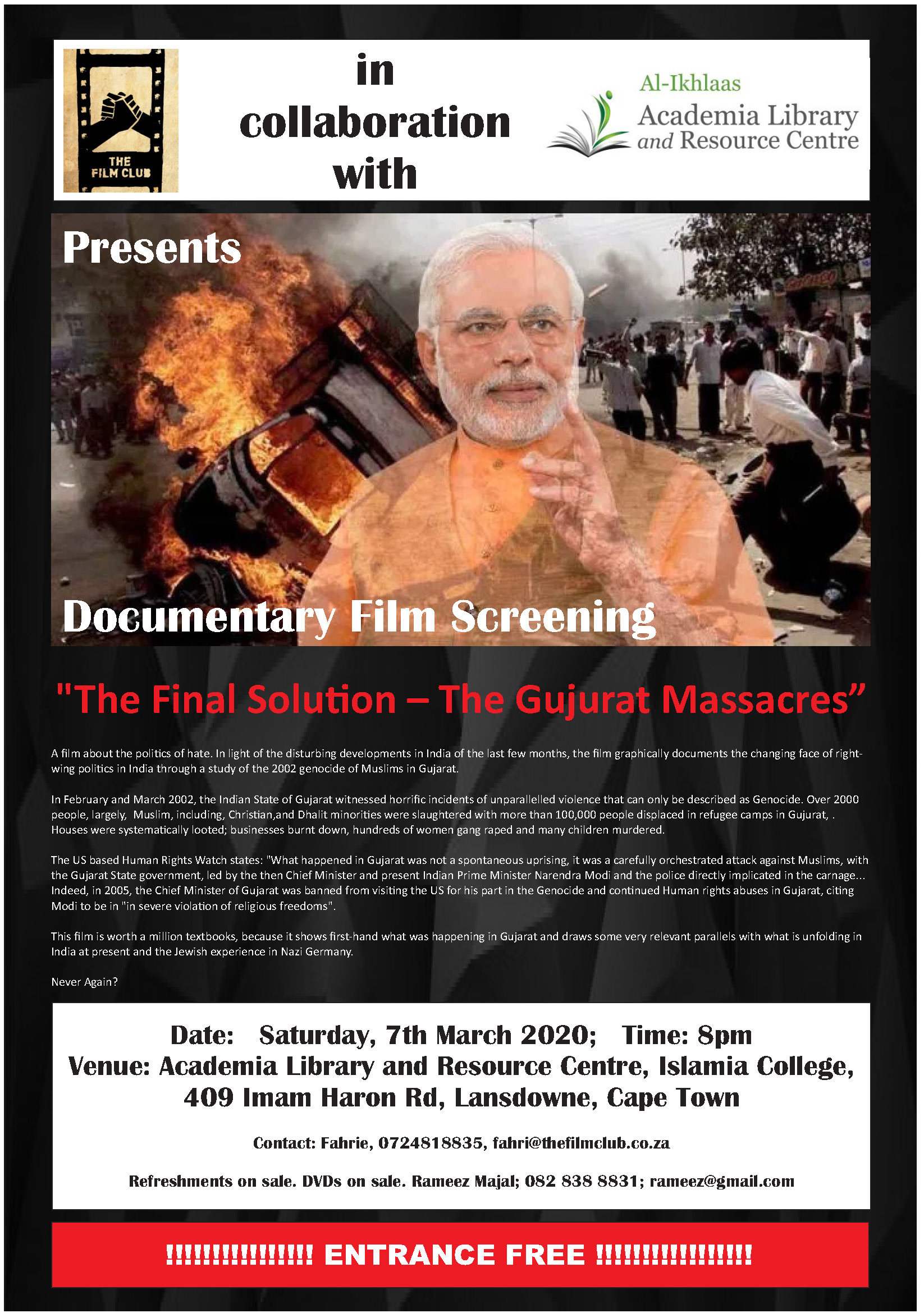 FILM CLUB OFF TO A SOBERING START
The Film Club at the Al Ikhlaas Academia Library screened its first documentary to an audience of about 50 people. The documentary titled "The Final Solution – The Gujarat Massacres" tracked the killing of thousands of both Hindus and Muslims who are egged on by right wing nationalist politicians in India.
This is part of the Library's commitment to introduce various programmes to educate our communities about important aspects of the world around us. Libraries generally, the world over also have to adapt to fast changes and Academia is stepping up to the challenge.
In the early 2002, after a fairly long period of political and religious stability in a nation consisting of almost 1,5 billion people, with thousands of different languages and dialects and two major religions, Hinduism and Islam, the greed for political and economic power was once again used to wreak havoc amongst the sensibilities of an already uneasy balance between the people.
Whilst the documentary was over 2 hours long and has repetitive scenes of interviews of those who lost families to marauding mobs of hindutva and the subsequent retaliation of Muslim communities, the story is reminiscent of the current situation of the right wing government forcing through legislation that may remove citizenship of millions of minorities, and mainly Muslims, who know no other country other than their country of birth. At various points, Narendra Modi is filmed pushing Gujaratis to make a stand for their own independence as a community to be reckoned with…
At various points, politicians are recorded and show no respect even to one of the founding fathers of modern India, Mahatma Gandhi, where thousands of people at political rallies are goaded on to ignore his call for co-existence and mutual respect. "This is a nation for the Hindus…" is the theme of the right-wingers and some openly declare that minorities should leave the sub continent.
The documentary was followed by a short Q&A session and teas, coffees and koeksisters were sold to raise funds for the library!
The next Film Club session is to be held on Saturday 4 April at 8pm at the Al Ikhlaas Academia Library. A reminder that the programme is free and all are welcome.